Tantalize Your Taste Buds with Fazlani Foods Pickles
Pickling is an age-old process wherein fruits and vegetables are immersed in vinegar. This was done to extend the lifespan of the ingredient. Today, the very definition of pickling and pickles have changed. No longer do we pickle fruits and vegetables to lengthen their lifespan, but to create a delectable accompaniment to food. Fazlani Foods […]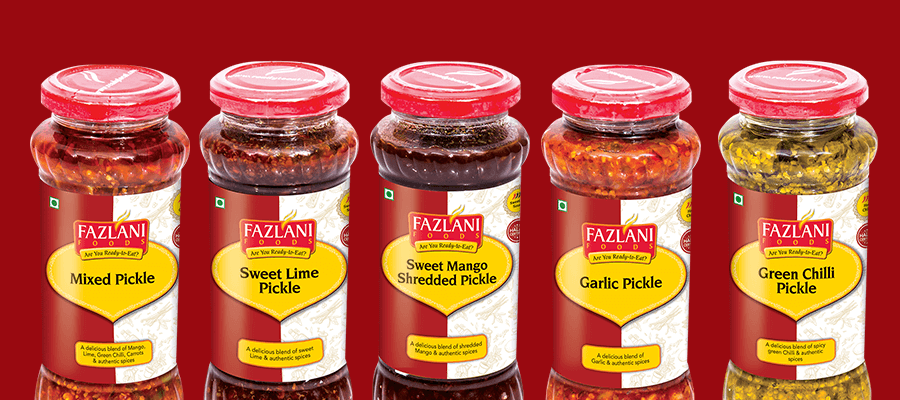 Pickling is an age-old process wherein fruits and vegetables are immersed in vinegar. This was done to extend the lifespan of the ingredient. Today, the very definition of pickling and pickles have changed. No longer do we pickle fruits and vegetables to lengthen their lifespan, but to create a delectable accompaniment to food.
Fazlani Foods is a Ready-to-Eat brand that is known for the sheer variety of pickles that it contains within this category.
Mentioned below are our Fazlani Foods pickle favourites that are known for their extraordinary flavours.
1) Garlic Pickle
A delectable blend of garlic, exotic spices and herbs, this pickle will make a great accompaniment with your lunch or dinner. It goes well with all the Asian delicacies.
2) Green Chilli Pickle
This hot and tangy pickle is created using spicy green chillies which are immersed in aromatic spices and oils. This tastes best when eaten with Indian cuisine.
3) Lime & Chilli Pickle
This pickle is a mouthwatering blend of spicy chillies, sour limes, authentic spices and oils. This pickle is unique to Fazlani Foods and we highly recommend picking it up.
4) Mixed Pickle
With different vegetables mixed together, Fazlani Foods mixed pickle is sure to give your dish the burst of flavours that it needs.
5) Prawn Pickle
Made with prawns, oil, vinegar, and authentic spices, prawn pickles are absolutely irresistible. Cooked before preserving, this pickle will definitely make you nostalgic about the good old days.
6) Spicy Mango Pickle
This is a childhood favourite of almost every Indian. Made from unripe mangoes and blended with exotic spices and herbs, this spicy mango pickle is a delectable delight that you shouldn't miss out on.
7) Tuna Pickle
The tuna pickle is one that is sure to tantalize your taste buds! The tuna is first marinated in authentic spices, vinegar and oil before it is cooked and preserved. Fazlani Foods is known for its tuna pickle and is totally worth trying out!
Want to browse through Fazlani Foods' range of pickles? Please visit www.readytoeat.com