Sauces on the Go Must-Have Sausome Products for Travel and Picnics
Introduction: Are you a foodie adventurer who loves to explore new flavours while traveling or enjoying a delightful picnic with loved ones? Look no further, because Sausome has got you covered! We are excited to introduce our range of delectable sauces, dips, and chutneys that are perfect companions for your on-the-go escapades. Whether you're a […]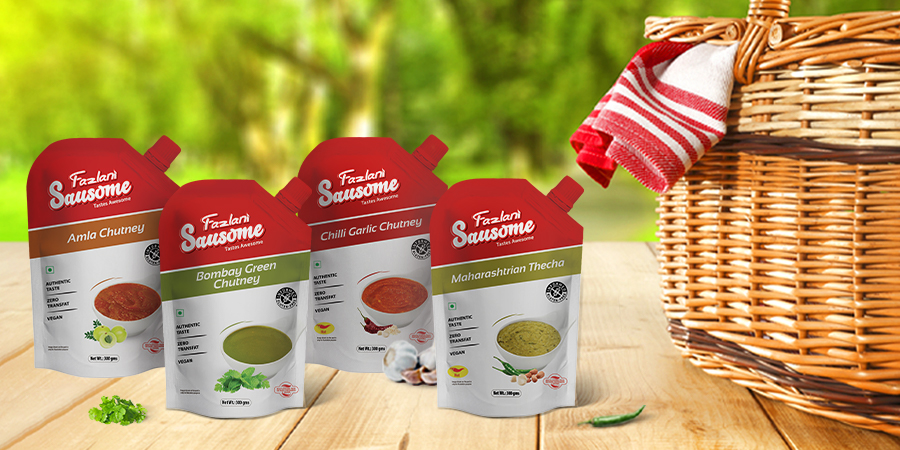 Introduction:
Are you a foodie adventurer who loves to explore new flavours while traveling or enjoying a delightful picnic with loved ones? Look no further, because Sausome has got you covered! We are excited to introduce our range of delectable sauces, dips, and chutneys that are perfect companions for your on-the-go escapades. Whether you're a spice lover, a fan of tangy goodness, or simply crave some mouthwatering delights, Sausome has something special to elevate your travel and picnic experiences.
Schezwan Sauce –
Embark on a culinary journey with our Schezwan Sauce, the perfect blend of spices and heat. Whether you're indulging in local street food or exploring new cuisines, this sauce is the ideal accompaniment for adding a spicy kick to your meals. Slather it on sandwiches, use it as a dip for fries, or even mix it with your instant noodles for an authentic Asian taste experience on the go.
Peri Peri Sauce – 
For those seeking a tangy and flavourful escapade, our Peri Peri Sauce is a must-try! Packed with the goodness of exotic African bird's eye chili, this sauce adds a zesty twist to grilled meats, roasted vegetables, and even wraps. Take it along on your picnic, and drizzle it over your barbecued delights for an unforgettable dining experience.
Sweet Chilli Sauce –
Sausome's Sweet Chilli Sauce strikes the perfect balance between sweet and spicy, making it a versatile choice for various dishes. Use it as a dipping sauce for spring rolls, dumplings, and kebabs, or simply toss it with your favourite salad for an appetizing treat while you're on the move.

Pizza and Pasta Sauce –
Indulge in the heartiness of Italian flavours wherever you go with our Pizza and Pasta Sauce. Spread it over flatbreads, wraps, or use it as a base for a quick and easy pasta dish during your picnic. With the authentic taste of ripe tomatoes and aromatic herbs, this sauce is sure to satisfy your cravings for a taste of Italy.
Tamarind and Date Chutney – 
For those who relish the delightful blend of sweet and tangy flavours, our Tamarind and Date Chutney is a must-have addition to your travel snacks. Pair it with samosas, pakoras, or even spread it on your sandwiches to savour the authentic Indian taste even when you're miles away from home.
Momo Chutney –
If you're a fan of momos or dumplings, our Momo Chutney is the perfect condiment to elevate your dumpling game during picnics. Its spicy and tangy profile complements steamed or fried dumplings beautifully, making it an essential sauce for any dumpling lover on the go.
Maharashtrian Thecha – 
Experience the bold flavours of Maharashtra with our Maharashtrian Thecha. This fiery chutney made from pounded green chilies and garlic is a delectable companion for your parathas, bread, or even as a condiment for your grilled meats. Its vibrant taste will undoubtedly add an extra punch to your outdoor meals.
Bombay Green Chutney – 
No travel or picnic is complete without the quintessential Bombay Green Chutney. With its refreshing blend of coriander, mint, and spices, this chutney is an all-time favourite as a spread for sandwiches, wraps, and kebabs. Its versatility and vibrant flavours make it an essential addition to your on-the-go food escapades.

Chilli Garlic Chutney –
Add a spicy twist to your snacks with our Chilli Garlic Chutney. This intense and piquant chutney is perfect for those who crave bold flavours. Pair it with pakoras, bhajis, or use it as a spread for rolls and sandwiches, and experience the zing it brings to your picnic treats.
South Indian Tomato Chutney – 
Discover the authentic taste of South India with our Tomato Chutney. Made from ripe tomatoes and traditional spices, this chutney is a delicious accompaniment for idlis, dosas, or any other South Indian delicacy. Take it with you on your travels, and enjoy the flavours of the south wherever you go.
Conclusion:
With Sausome's wide variety of sauces, dips, and chutneys, your travel and picnic experiences are about to reach a whole new level of excitement. These flavourful companions are sure to elevate your meals and create lasting memories of delightful culinary adventures on the go. So, the next time you plan a trip or a picnic, make sure to pack your favourite Sausome products and savour the goodness of our delectable sauces, dips, and chutneys wherever you wander. Happy travels and bon appétit!